Medical Membership Program Jamestown, ND
Tired of Paying High Deductibles? Join Our MedallusCare Membership Program & Pay as Low per Visit. Please 

Contact Us

 If You Have Any Questions.

Clinic Membership Program
If you don't want to use your health insurance to visit Medallus Clinic, we have an option.
You can become a member of MedallusCare by paying a monthly fee of $50/person/month so you can receive medical care for visit.
THIS IS NOT A HEALTH INSURANCE because the fee only covers what we can provide in our clinics within the scope of practice and training of our providers. If you need further care from ERs, hospitals, and specialists, you will be referred to them and are responsible for their fees. This is when your health insurance comes in and cover such benefits.​
For patients without health insurance, our program allows you to take care of BASIC medical needs, which accounts for about 90% of medical needs for an average population.
For patients with high deductible health insurance, our program allows you to set your insurance aside (we will not bill your insurance) so you can receive care for visit instead of $100 or more due to your deductible.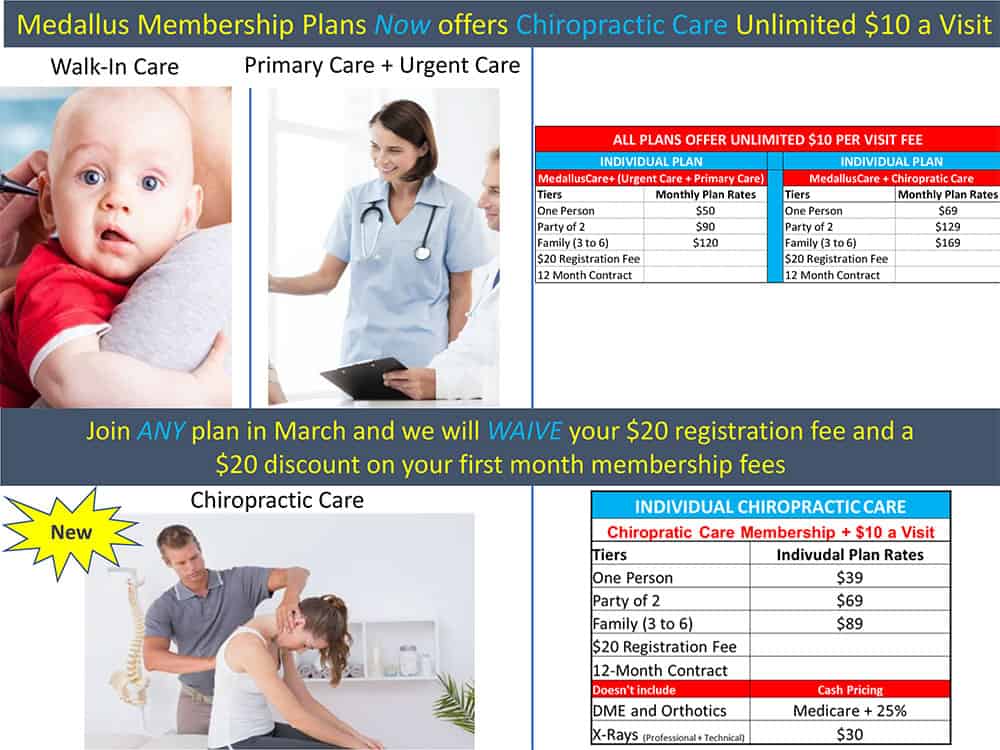 Benefits for Members
Urgent Care Visit
Visit, All-Inclusive for:
Rapid Strep Test
Urinalysis
Breathing Treatment
Antibiotic Shot
Laceration Repair
Fracture Care (Simple Fx)
X-Ray (Digital Only)
Primary Care Visit
Visit
Annual Exam
Chronic Disease Management
Served more than 100 companies, their employees, and 10,000 lives in Utah over 7 years
MedallusCare as Employee Health Benefit
If you are a business owner, you can now use our clinic as your company clinic for your employees by paying for their membership fee at lower corporate prices so your employees can now receive high access to more affordable care as employee health benefit.
For Employees with No Health Insurance
Provide coverage for basic care
Take care of 90%+ of medical needs
Keep employees happy with you
For Part-Time Employees
Offer as a highly affordable benefit
Help retain good employees
Help avoid ERs and hospitals
For Employees with High Deductible
Set health insurance aside for catastrophe
No hesitation to stay healthy with $10/visit
Prevent and reduce unnecessary claims
Help lower company insurance premiums